Dune
The 1965 novel
Dune is a science-fiction novel by the United States author Frank Herbert. It spawned the Dune franchise and is the first installment in the Dune saga. The novel has been translated into dozens of languages and sold nearly 20 million copies, making it one of the world´s best-selling sci-fi novels.
The story of the Dune novel is set in a distant future, where noble houses control planetary fiefdoms throughout a vast interstellar empire. The main character is Paul Atreides, whose family accepts stewardship of the inhospitable desert planet Arrakis. For the rest of this feudal world, Arrakis is important as the only source of melange, also known as "the spice". Melange is a powerful compound that extends life and changes a users mental abilities. It is required for a type of space navigation that rely on a kind of multidimensional awareness and foresight that is impossible to achieve without the spice.
Throughout the Dune novel, various fractions of the empire struggle to control Arrakis – i.e. control the supply and use of melange. The novel explores themes such as human emotion, ecology, religion, politics, and technology.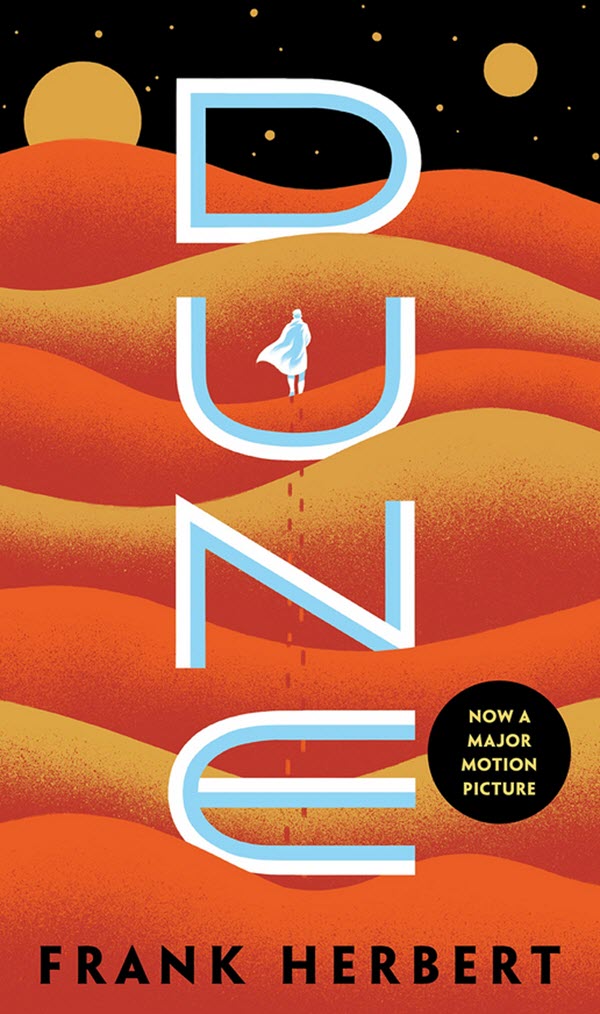 Origins of the novel
Frank Herbert began researching for his novel after reading about a U.S. Department of Agriculture experiment where poverty grasses was used to stabilize sand dunes to prevent them from "swallow whole cities, lakes, rivers, and highways".
Initially, he created two shorter works, which were serialized in the Analog magazine; Dune World in 1963 and The Prophet of Dune in 1965.
Herbert reworked and expanded his work, but it was rejected by over 20 different publishers. Eventually, Chilton Books – a printing house best known for its auto repair manuals – published the Dune novel in 1965. The book was well received and won the Nebula Award for Best Novel in 1965, as well as half of the 1966 Hugo Award for best novel (Dune tied with Roger Zelazny´s novel This immortal).
The Dune franchise
The Dune franchise is a science-fiction media franchise with its origins in Frank Herbert´s novel Dune. The fictional setting of the Dune franchise is known as the Dune universe ("Duniverse"). The stories take place far into the future, focusing on a civilization that has developed advanced mental and physical disciplines and banned all "thinking machines", a ban that prohibits computers, robots, AI, and similar. Other forms of advanced technology is still allowed.
Frank Herbert wrote six Dune novels in his lifetime (he died in 1986), but the franchise contains a much larger number of novels since his son Brian Herbert has collaborated with science fiction author Kevin J. Anderson since the 1990s to create both prequel novels and sequels, some of which have been partially based on Frank Herbert´s notes which were discovered a decade after his death.
The six Dune novels written by Frank Herbert are Dune, Dune Messiah, Children of Dune, God Emperor of Dune, Heretics of Dune, and Chapterhouse: Dune.
The Dune franchise contains many adaptations and derivative works, including the 1984 film Dune written and directed by David Lynch and the 2021 film Dune directed by Denis Villeneuve. Adapting the Dune stories to live action has been notoriously difficult. One of the earliest attempts took place in the 1970s, when cult film maker Alejandro Jodorowsky spent nearly three years on the project before it was scrapped due to snowballing costs.
In addition to the movies, Dune storylines have also been adapted to TV-series, notably the 2000 miniseries Frank Herbert´s Dune which ran on the Sci-Fi Channel and was so well received that it spawned the sequel Fran Herbert´s Children of Dune a few years later.
Duniverse novels (1965-2022)
Written by Frank Herbert
Dune (1965)
Dune Messiah (1969)
Children of Dune (1976)
God Emperor of Dune (1981)
Heretics of Dune (1984)
Chapterhouse: Dune (1985)
Written by Brian Herbert and Kevin J. Anderson:
Prelude to Dune series
House Atreides (1999)
House Harkonnen (2000)
House Corrino (2001)
Legends of Dune series
The Butlerian Jihad (2002)
The Machine Crusade (2003)
The Battle of Corrin (2004)
Hunters of Dune (2006)
Sandworms of Dune (2007)
Heroes of Dune series
Paul of Dune (2008)
The Winds of Dune (2009)
Great Schools of Dune series
Sisterhood of Dune (2012)
Mentats of Dune (2014)
Navigators of Dune (2016)
The Caladan Trilogy series
Dune: The Duke of Caladan (2020)
Dune: The Lady of Caladan (2021)
Dune: The Heir of Caladan (2022)