Craps
Craps is an action-packed dice game that blends luck with strategic choices, and where a certain understanding of mathematics and statistics can give you a leg up. Make no mistake, however, luck is a very strong component in craps and you need Frau Fortuna firmly on your side to make any long-term profits.
Unlike casino roulette with its fancy pedigree and ties to French aristocracy, craps originate from a dice game played in dusty streets of Louisiana, where an English dice game called hazard had been simplified to suit local conditions. Even today, there is a certain undercurrent of that humble heritage present at our modern craps tables, despite their placement inside the ritziest of casino establishments around the world. At craps, gamblers still throw out the dice instead of relying on a professional dealer, the crowd is expected to go wild when "the table wins", and there is a whole host of superstition that must be adhered to if you don´t want to attract the ire of your fellow gamblers.
Understandably, the hectic environment at the craps table has been utilized by many writers and screenplay creators. As mentioned, players are actually allowed to throw the dice at the craps table, which adds a special element of inclusion. You certainly don´t get to spin the ball at roulette, but a craps dealer will happily hand you his dice cup as the crowd cheers you on with wild cries of anticipation.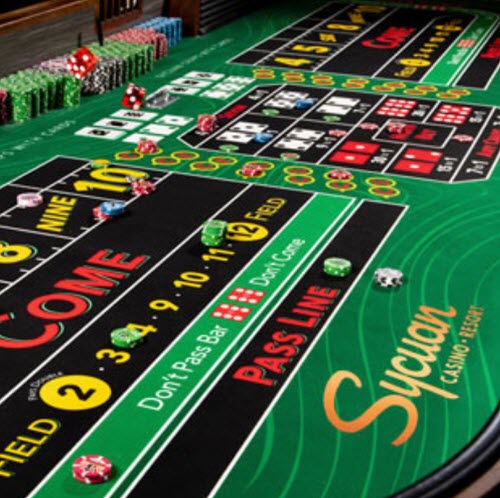 Craps in popular culture
Examples of movies that feature craps
Diamonds Are Forever. In this 1971 Bond-movie, 007 meets Plenty O´Tool at the craps table, which ultimately results in her being thrown out of his hotel room window and killed by thugs. The movie is based on Ian Fleming´s 1956 novel of the same name, and was the second of four Bond-movies directed by Guy Hamilton.
Hard Eight. Hard Eight is a dice roll in craps, but it is also the name of a 1996 crime film directed by Paul Thomas Anderson and starring Philip Baker Hall, John C. Reilly, Gwyneth Paltrow, and Samuel L. Jackson. We also get to see a young Philip Seymour Hoffman in the role of a craps player.
The Big Town. This neo-noir thriller is a classic for craps aficionados, but it received a mixed reception when it premièred back in 1987. It stars Matt Dillion as a small-town youngster who discovers his talent for craps and goes to Chicago to seek his fortune. In the big city, he becomes the pawn of two high-rollers and participates in a revenge scheme cooked up by an embittered stripper.
Indecent Proposal. In this 1993 movie, a married couple wins over $25,000 playing craps in Las Vegas, only to lose them at the roulette table the following day. The film is based on the 1988 novel Indecent Proposal, written by Jack Engelhard.
Guys and Dolls. This is the iconic 1955 film where we get to witness Marlon Brando sing "Luck Be a Lady" during a session of craps.
The Cooler. This romantic drama from 2003 follows a casino "cooler", whose presence at a gambling table gives the other players bad luck.
Walking Tall. This is a semi-biographical film based on the life of Buford Pusser, a professional wrestler-turned-lawman in Tennessee. He gets beaten up in McNairy County after catching the house cheating at craps, and the aftermath causes him to unravel rampant corruption in the county. The 1973 movie is considered a cult classic, and it spawned two direct sequels of its own, a TV movie, a TV series, and a 2004 remake that got its own two sequels.
Examples of novels that feature craps
Dice Angel by Brian Rouff. James Delaney Jr. Is the owner of a Las Vegas bar and a recovering gambling addict. After a series of misfortunes, Delaney meets a homeless man who gives him the business card of the mysterious "Dice Angel" who, allegedly, can help him to succeed at the craps table.
God Doesn´t Shoot Craps by Richard Armstrong. Danny Pelligrino is a successful fraudster specializing in a direct mail scheme. He meets the inventor Virgil Kirk, who has created a mathematical craps strategy. Pellegrino finds that Kirk´s formula actually works, but the success of the system doesn´t go unnoticed.
Casino by Nicholas Pileggi. This book was the inspiration for the famous movie of the same name, and it captures the era when organized crime rose to power in Las Vegas. The main characters are Frank "Lefty" Rosenthal and Anthony "The Ant" Spilotro, who lives their lives in a web of greed, deceit and violence. After having an affair with Rosenthal´s wife, Spilotro gets an offer he can´t refuse.